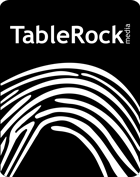 TABLEROCK MEDIA ANNOUNCES PLANS TO LAUNCH COLLECTION OF OVER-THE-TOP NICHE CHANNELS
FOR IMMEDIATE RELEASE
Toronto, Canada – AUG 11, 2015 – TableRock Media, a new direct-to-consumer entertainment company, announced today plans to develop and produce a collection of niche channels for worldwide distribution. The subscription-based digital channels will be available through Apple and Android devices, set-top boxes, video game consoles and other platforms when launched for a global audience in 2016.
TableRock Media will launch a series of internet-based specialty channels focused on key genres including Guitars, Motorcycles and Aviation, all billion dollar industries that attract a large consumer base within their categories. Audiences will have access to premium content, with original documentaries, films and hosted series curated with hyper-niche programming. Content will feature a combination of original productions created and distributed by TableRock Media and acquired programming. The subscription-based channels will go beyond the screen giving members' access to exclusive events, engagement through social media and forums to build a community around people with passions.
TableRock Media is co-founded by Jeffrey Elliott, former founder and CEO of GlassBOX Television. GlassBOX emerged as one of Canada's leading multi-platform media companies and was awarded an International Emmy® for Interactive Broadcasting. The TableRock executive team includes co-founder and Chief Creative Officer David Hatch, founder of Whistlestop Productions and co-founder and Chief Operating Officer Joseph Arcuri, former CFO at GlassBOX Television and President of AOL Canada.
The TableRock Media Board of Directors is chaired by Ken Murphy, co-founder of High Fidelity, HDTV and former President and General Manager at Discovery Channel (Canada). GlassBOX Television and High Fidelity were purchased by Blue Ant Media in 2012. Rounding out the TableRock Media Board of Directors are Henry Eaton, President of Eaton Ventures and Francis MacDougall, Founder of GestureTek.
"Over-the-Top content consumption has empowered consumers to make personalized viewing choices and we see an opportunity to provide audiences with premium programming and experiences specifically tailored to their interests," said Jeffrey Elliott, Co-Founder & Chief Executive Officer, TableRock Media. "With consumers now in the driver's seat, our strategy is to create niche media brands that will complement general entertainment subscription-based offerings for global audiences."
-30-
TableRock Media is a subscription-based over-the-top digital media company with a collection of niche, curated channels including Guitars, Motorcycles and Aviation. A next-generation media company with premium original content and exclusive events, TableRock brings global communities together to watch, read and touch the things they love. The direct-to-consumer digital channels will be available through Appleand Android devices, set-top boxes, video game consoles and other platforms when launched in 2016. For more information visit tablerockmedia.com
[feather_follow]
Media Contact:
Jennifer Mason
+ 416 456 1042
jennifer@tablerockmedia.com